The most advanced inventory management functionality for the most flexible QuickBooks
Take control with Advanced Inventory. Advanced Inventory Software for QuickBooks Desktop
Enterprise gives you the visibility you need to make the best business decisions.

Bin Location Tracking
Track items to specific bins within a warehouse.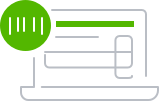 Manage by Lot and Serial Number
Track by lot or serial number for flexibility.

Barcode Scanning
Scan barcodes to enter data quickly.

Track Across Multiple Locations
Get your inventory value across multiple locations.

FIFO Cost Accounting
Easily setup FIFO inventory accounting.

Transfer Between Sites
Easily transfer items between inventory sites.
Key features of Advanced Inventory
Speed up the picking process and helps reduce data entry errors with mobile inventory barcode scanning. Send sales orders to workers on the floor, scan inventory within a warehouse, and transfer the data wirelessly. Work across multiple warehouses or anywhere that has an internet connection.
Empower employees to fulfill sales orders and delight your customers by prioritizing the most urgent orders. View critical information like ship date, inventory availability and value of order. Fulfill sales orders faster with a new picking process. Create customized pick-lists to be completed by warehouse workers across multiple locations. Check on the status in real time.
Add flexibility and insight to your business with newly customizable inventory reports: Inventory Valuation Summary, Inventory Stock by Item, and Assembly Shortage by Item. Plus, additional fields allow you to better track your inventory.
For each location, you can see how many items are on hand, on sales order, on purchase order, and your reorder point. And QuickBooks will automatically calculate which items you need to restock.
If one location is running low on inventory, you can transfer stock from another location to meet demand without delay.
See scheduling and dispatching at work
Take the first step to improving your business.